Rabbi Kokeb Gedamu
Being born and raised in Ethiopia, Kokeb and his wife Menalu attended school , met and married there. During the communist uprising in Ethiopia Kokeb and Menalu fled the country making a difficult and perilous journey through the desert of Sudan. They encountered many hardships, even fearing for their lives, but God protected and delivered them. They lived in Sudan where their first child Ruhama was born in 1990. Kokeb served as a Elder in a congregation of Ethiopian and Eritrean refugee's. He taught Bible school, led prayer groups and tried to encourage those living in less than ideal conditions.
Doors where opened for them to enter Egypt where conditions improved slightly.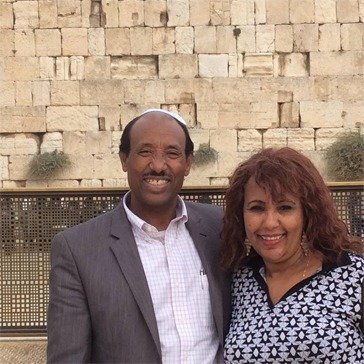 He served there as an Elder in the Maranatha church. It was here that their second child Ebenezer was born in 1993. Finally, after seven years without a permanent home they made Aliyah to Israel where their last child Tsiona was born in 1996. While in Israel Rabbi Kokeb served as chairman of of the elders committee , and senior pastor of six Messianic Jewish Congregations in Israel. He served there faithfully until The Lord called him to further his education in Canada. He moved his family to Canada and was eventually ordained a pastor at the Open Bible Faith Fellowship of Canada. In 2001 it was time to move again. This time it was Philadelphia where he was called by the Messianic Jewish community to serve as pastor. He started a new fellowship of believers, Congregation Burning Bush of Greater Philadelphia, where Ethiopian Jews and Christians could worship together and serve the Lord in unity.
Kokeb is an ordained Rabbi of the International Alliance of Messianic Congregations and Synagogues (IAMCS) where he serves as regional director for Africa. He is also director of the board of operations for Tikvah/Hope, a humanitarian aid project of the Messianic Jewish Alliance of America (MJAA). He speaks at frequently in many congregations throughout the United States and abroad to spread the message of what God is doing amony the Ethiopian Jews in Africa, as well as in Israel. He has a passion for revival, healing and deliverence, and teaching the Jewish roots of the Christian faith.
In 2010 Kokeb wrote a book "Journey beyond Imagination" which chronicles the journey of the Gedamu family. It is translated into both English and Amharic. His other writings include books on the subject of marriage, and also the names of God.
Kokeb and his family once again relocated, where they lived in the Colorado area where he and Menalu serve the Ethiopian community in the Agape Evangelical Church. He traveled extensively to both Israel and Ethiopia to oversee operations on a local and national level. He maintains offices in both the US and Ethiopia.
Kokeb sponsors an annual trip to Ethiopia, and encourages everyone to come see first hand what God is doing through the ministry of HIIM. Now the Lord has called them back to the land who are living in Jerusalem and started Amud HaEsh ethiopian congregation who is praimery to reach out the young generation.